Wowee Wow Wow! When was the last time we had so many new tunes from so many major artists drop in the same week... on the same day even? You'll be seeing those big names all over the charts this week and it all begins with Arcade Fire on top of the singles chart with "Everything Now," the title track from their fifth album, due out at the end of July.
On the album chart, it's Philly phenoms The War On Drugs debuting at #1 with their highly anticipated 4th album A Deeper Understanding, easily beating the competition with only two tracks released so far, including the brand new single "Holding On," which lands at #2. Then of course there's the one and only Liam Gallagher of Oasis, releasing the first single "Wall of Glass" from his long awaited solo debut! That premiered at #3. Somehow admidst all that, a surprise Foo Fighters tune almost got lost in the shuffle, but not quite as "Run" shows up just a little further down the chart at #6. Oh yeah, and I almost forgot about that new / old Radiohead song "I Promise" from the upcoming OK Computer 20th anniversary deluxe reissue. That's tied at #7 with Rancid's "Where I'm Going" from their new record Trouble Maker, which itself is tied at #3 on the album chart, followed by Alt-J at #5 with Relaxer.
Good to also see strong showings from some non-mega-huge artists, like UK trio All We Are whose single "Human" has worked its way up to #4, and, with another track played as well, their new album Sunny Hills debuts at #2. Beach Fossils are doing well too with their new album Somersault at #3t. Then there's Marika Hackman tying with Phoenix for #6, and my man Mondo Cozmo at #8. Closing out the top ten albums with another tie at #9 are two more up-and-comers, Fictionist and Cigarettes After Sex.
That was a super-non-linear run down of the charts, but you can see them all nice and laid out properly in full below.
Now let's see what new stuff comes our way for this weekend! I'll be here to run it all down next time.
~ Josh Landow
Twitter: @JoshTLandow
| | | | |
| --- | --- | --- | --- |
| # | Artist | Track | Label |
| 1 | ARCADE FIRE | EVERYTHING NOW | COLUMBIA |
| 2 | THE WAR ON DRUGS | HOLDING ON | ATLANTIC |
| 3 | LIAM GALLAGHER | WALL OF GLASS | WARNER BROS. |
| 4 | ALL WE ARE | HUMAN | DOMINO |
| 5 | THE NATIONAL | THE SYSTEM ONLY DREAMS IN TOTAL DARKNESS  | 4AD |
| 6 | FOO FIGHTERS | RUN | RCA |
| 7t | RADIOHEAD | I PROMISE | XL |
|   | RANCID | WHERE I'M GOING | EPITAPH |
| 9t | JOYWAVE | IT'S A TRIP | HOLLYWOOD |
|   | LCD SOUNDSYSTEM | CALL THE POLICE | DFA / COLUMBIA |
|   | MATT POND PA | STILL SUMMER | 131 |
| 12t | BEACH FOSSILS | THIS YEAR | BAYONET |
|   | BETH DITTO | FIRE | CAPITOL |
|   | PHOENIX | J-BOY | GLASSNOTE |
| 15t | THE DRUMS | BLOOD UNDER MY BELT | ANTI- |
|   | FICTIONIST | LAZARUS | HARBOUR / CAROLINE |
|   | MONDO COZMO | AUTOMATIC | REPUBLIC |
|   | PICKWICK | TURNCOAT | SMALL PRESS |
| 19t | LORDE | PERFECT PLACES | LAVA / REPUBLIC |
|   | RAINER MARIA | LOWER WORLDS | POLYVINYL |
| 21t | ALT-J | DEADCRUSH | CANVASBACK / ATLANTIC |
|   | GRIZZLY BEAR | MOURNING SOUND | RCA |
|   | LO MOON | THIS IS IT | COLUMBIA |
| 24t | BROADSIDE | PARADISE | VICTORY |
|   | THE CHARLATANS | PLASTIC MACHINERY | THE END |
|   | CHEERLEADER | FEEL LIKE THAT | BRIGHT ANTENNA |
|   | THE JUNCTION | NIGHT AND DAY | CULVERT |
|   | RAC (FT. RIVERS CUOMO) | I STILL WANNA KNOW | COUNTER |
|   | RAD HORROR | SAD BOY | GUTSY MGMT |
|   | THE SUBURBS | HEY MUSE! | SELF-RELEASED |
| | | | |
| --- | --- | --- | --- |
| # | Artist | Album | Label |
| 1 | THE WAR ON DRUGS | A DEEPER UNDERSTANDING | ATLANTIC |
| 2 | ALL WE ARE | SUNNY HILLS | DOMINO |
| 3t | BEACH FOSSILS | SOMERSAULT | BAYONET |
|   | RANCID | TROUBLE MAKER | EPITAPH |
| 5 | ALT-J | RELAXER | CANVASBACK / ATLANTIC |
| 6t | MARIKA HACKMAN | I'M NOT YOUR MAN | SUB POP |
|   | PHOENIX | TI AMO | GLASSNOTE |
| 8 | MONDO COZMO | PLASTIC SOUL | REPUBLIC |
| 9t | CIGARETTES AFTER SEX | CIGARETTES AFTER SEX | PTKF |
|   | FICTIONIST | SLEEP MACHINE | HARBOUR / CAROLINE |
| 11t | GRIZZLY BEAR | PAINTED RUINS | RCA |
|   | PICKWICK | LOVEJOYS | SMALL PRESS |
| 13t | BLEACHERS | GONE NOW | RCA |
|   | CHARLATANS | DIFFERENT DAYS | THE END |
|   | LORDE | MELODRAMA | LAVA / REPUBLIC |
| 16t | (SANDY) ALEX G | ROCKET | DOMINO |
|   | BROKEN SOCIAL SCENE | HUG OF THUNDER | ARTS & CRAFTS |
|   | CHASTITY BELT | I USED TO SPEND SO MUCH TIME ALONE | HARDLY ART |
| 19t | BROADSIDE | PARADISE | VICTORY |
|   | THE JUNCTION | CITY NIGHTS | CULVERT |
|   | RAC | EGO | COUNTER |
|   | THE SUBURBS | HEY MUSE! | SELF-RELEASED |
| 23t | THE ACES | I DON'T LIKE BEING HONEST | RED BULL |
|   | BIG THIEF | CAPACITY | SADDLE CREEK |
|   | DAN AUERBACH | WAITING ON A SONG | EASY SOUND / NONESUCH |
|   | THE MOUNTAIN GOATS | GOTHS | MERGE |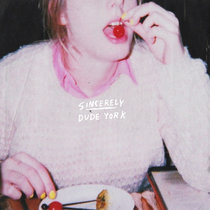 Dude York
Sincerely
(Hardly Art)
Last year when we had Tacocat in for a SubModern Session, I was told by their manager that I should look out for another Seattle band with an album coming in 2017 called Dude York.  I heeded that advice and have really been enjoying Sincerely, the Hardly Art Records debut of the three piece consisting of Peter Richards, Andrew Hall, and Claire England. I was very happy to welcome them for their own SubModern Session recently, which you can listen to here, while reading my interview with the self-proclaimed "America's Band."
 
FMQB: So tell me a little bit about your band name, because it cracks me up.   
Peter Richards: It just was appealing nonsense at the time and it's an empty vessel to be filled.
Andrew Hall: You can project whatever you want into it.  When I think of it, it just sounds like the most depressing place on Earth, so we try really hard to be the opposite of that. 
FMQB: You are not depressing!  You are the opposite of that.
 
PR: Thank you.
FMQB: It looks like you had some fun with it in the early years with your early titles Gangs of Dude York and Escape From Dude York.  Did that just get old to you?
PR: No, I think we just got distracted.  Thanks for reminding us.
 
FMQB: Your new album Sincerely, if I'm counting correctly, and I'm not sure because there's a lot on your Bandcamp so I don't know what exactly counts, but it looked like this is your third full length.
PR: Sure, I would agree with that.
AH: Yeah.  The second one that's a tangible object.  The first one is… wacky.  I would consider this the second one that is an object, the first one with Hardly Art.  It can be the first, the second, or the third, depending on how you want to look at it. 
FMQB: Very flexible!
AH: It's a vinyl record.  It'll break in half.
FMQB: Not in the literal sense.  It's not a flexi-disc.  Anyway, the point is, it's called Sincerely and you're going to play some songs from it for us today.  The first single was "Black Jack."  What can you tell us about that one. 
PR: The name comes from an Osamu Tezuka manga and the content is I guess kinda like, to defeat grief, you have to build your own little triumphs and then you can kind of manifest them in the real world.  That's a strong thread for me in terms of the content of the [whole] album.
 
FMQB: You've taken on the subtitle of being "America's Band."  You introduce yourselves that way at shows and I noticed it's on your merch. What's that all about?
PR: Y'know, it's just about taking ownership of where you are I guess.  I don't know.  Moving forward into the future. 
AH: It felt like a fun thing to say in 2013.  Now it's a very complicated thing to say in 2017, but the thing is you can't let other people steal things from you. 
PR: Especially fascists.
AH: So we have to keep it and roll with it, cause our America is better.
FMQB: I'd get behind that.  Anyway, as you've progressed, as this is maybe your first, second, or third full length album, going back to your early work, what do you feel the progression of Dude York has been?  This album seems to be the most polished.
AH: This was the first time that we'd worked in a real [studio] with somebody who had made a ton of amazing records that we all looked up to.  We were big Blood Brothers fans and fans of a lot of things that John [Goodmanson] had worked on.  It was so cool to make a record where we had time to really think about it and do it right, as opposed to merely do it while trying not to tear out all of our hair in a period of two days.
FMQB: And when you recorded with him, that was the second version of Sincerely that you recorded?  What was the first one?
PR: Mmm hmm.  The first one we did in Zach Burba from iji's living room and were told there was too much drywall in the recording.  So we scrapped most of the songs and tried again many months later.
Claire England: It was a lot weirder then.  Or at least  it had a lot of elements that weren't necessarily things that we had ever tried live or we didn't really know what the songs were gonna be, but by the time we recorded it again, we'd been playing them for a solid eight months, so we were able to go into the studio and play the best version of how it actually sounded.     
PR: Yeah.  I also think that, Claire, your writing on this record is a huge part of what makes it so appealing.
CE: Well, thank you Peter!  And yeah, the first version didn't have any of my songs on it.
FMQB: "Tonight" was the very first song that you wrote for the band?  What took so long?
CE: Well, I joined the band later than it started, so there was a curve of settling in.  And my songs were pretty poppy, so I wasn't sure if they'd fit in.  But one day we were having a little song writing sesh and I played "Tonight" for Peter and Andrew for the first time, and they responded very positively to it.
AH: It's a good song!
PR: It was a really cool experience.  I felt like I knew exactly what the guitar part was, just from hearing the bass part, and for most of Claire's songs that's kind of how I feel.  Maybe that's just sort of like arrogance, but it feels good!

Find out more about Dude York at Dude-York.com or HardlyArt.com. Listen to their SubModern Session performances of "Tonight," "Black Jack," and "Love Is" here. 
By Josh T. Landow